An automatic, weekly purchase of coins helps support both the network as well as the value of the coin by maintaining a constant demand for more coins from already-existing members.
25% of all commissions earned through network building are invested directly into the mandatory automatic purchase (mandatory purchase) of coins. Until the S-coin is offcially launched the Coins are bought automatically at a fxed price of 0.5 € per Coin and assigned to your Held Account. After the S-coin is offcially launched you can use the money intended for the Mandatory buy to buy coins at market value at any given time.
You earn 1000€ in a week: 75% of the money is transferred to your Cash Account while 25% of the money is invested into your Mandatory buy. In other words you receive 750 € directly onto your Cash Account and the remaining 250€ is used to buy 500 Coins (worth 0.5 € each).
The purchased coins are transferred to your Held Account.
After the offcial launch of the S-Coin the coins in your Held Account will be released
Earn 1.000 € but get value of 1.250 € now!
This means that:

by earning 1000 € you immediately receive 750 € as well as 500 coins. These coins can later be cashed in for 1€ or more per coin. This means that you can earn an additional 500 € or more (depending on the market value of the coins at the time they are sold). Your weekly income thus amounts to even more than 1000 €: more specifcally your weekly income is at the very least 25% higher. This means that you actually earn 1250 € or more.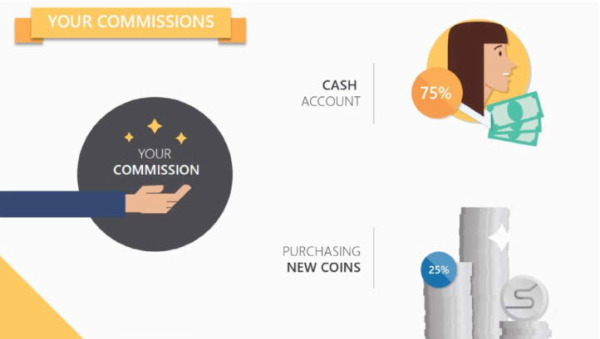 ​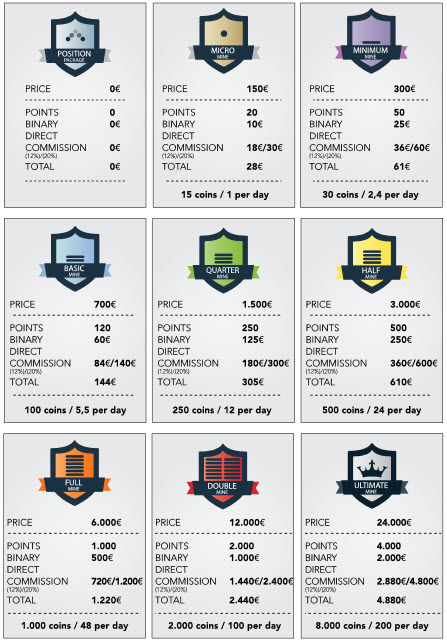 Includes 60 days access to the distributor's Backoffice.

Single bonus: *Direct commission on all your personally sponsored members

Possibility to *Upgrade option (buy business package)

NO binary commissions

Coinspace mining service is not included /NO fxed monthly income

Coinspace mining contract is not included  

More details:


DIRECT COMMISSIONS are OPEN 12%



the 45 day challenge (20% direct commission) begins on the day of your enrollment into the system if upgraded to any Business package (minimum mine or higher) you start earning 20% direct commission till your initial 45 day period expires

This bonus rewards you for sponsoring leaders

BINARY COMMISSIONS are LOCKED


Binary commissions are locked until you upgrade to any of the Coinspace Business Packages. Binary volume is accumulated for a period of 60 days and it will remain there after the 60 day period if a member purchases a package of MICRO MINE or greater within that period. It can also be paid out before or after the period when a member becomes FULLY QUALIFIED ACTIVE MEMBER

INACTIVE POSITION


Once the position goes INACTIVE a member can activate it by purchasing a package of minimum 6000 € (Full Mine Package)

60 DAYS ACTIVATION PERIOD RULE


Members with the FREE POSITION package must upgrade their package within 60 days after the date of their enrollment. Members have the option to buy any Coinspace business package (Minimum Mine or higher), otherwise all the accumulated points in binary within their frst 60 days will be erased! Member status is changed to inactive after 60 days if the FREE POSITION has not been upgraded to any of Coinspace's business packages. Access to the online backoffce is allowed for a 60 day period. After 60 days the backoffce will be closed down unless the FREE POSITION is upgraded to any of Coinspace's business packages (Minimum Mine or higher). The FREE POSITION Package does not include the Coinspace Mining Service. By starting with the FREE POSITION Package, members do not have any monthly fxed income.

​Upgrade to any of Coinspace's business packages. There is a possibility for members to upgrade the FREE POSITION Package by buying any of Coinspace's business packages (Minimum Mine or higher) in their Backoffice Shop.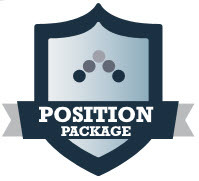 ​BUSINESS PACKAGES
​

• Includes access to the distributor's Backoffce

• 365 days active-status

• Includes Coinspace mining service

• One year mining contract

• Mining operations

• Project Shares (quarter mine or higher)

• »Crypto money maker« device : Software that allows you to mine multiple digital currencies and enables you to obtain the new cryptocurrency S-coin before its launch

• Full access to trading opportunities • Includes all bonuses

• A system to improve your fnancial wellbeing 
GOOD TO KNOW


Why is it good to start with either the Minimum Mine (300€) or a greater package to become a

FULLY QUALIFIED MEMBER IMMEDIATELY

Packages

         0 eur - 12% / no mining

150 eur - 12% / mining

300 eur - 20% / mining


CHOOSE YOUR PACKAGE!

MICRO MINE: 150 € (20 points)
Bronze Series
Held Coins: 15
​Mining: 1,0 coins/day

BASIC MINE: 700 € (120 points)
Bronze Series
Held Coins: 100
​Mining: 5,5 coins/day 

HALF MINE:
3.000 € (500 poins)
Silver Series

Held Coins: 500

Mining: 24 coins/day

Project Share: +3

DOUBLE MINE:
12.000 € (2.000 points)
Gold Series

Held Coins: 2.000

Mining: 100 coins/day

MINIMUM MINE: 300 € (50 points)
Bronze Series
Held Coins: 30
​Mining: 2,4 coins/day

​

QUARTER MINE:

1.500 € (250 points)
Silver Series
Held Coins: 250
Mining: 12 coins/day
Project Share: +1


​FULL MINE: 6.000 € (1.000 points)
Gold Series
Held Coins: 1.000
Mining: 48 coins/day
Project Share: +5

ULTIMATE MINE: 24.000 € (4.000 points) Black Series
Held Coins: 8.000
Mining: 200 coins/day
Project Share: +30
​MERCHANT PRIORITY








You can in the next 45 days as a full member sign up a new member, and earn Fast start commission of 20 % and 12% fast start commission after first 45 days. Even as a free member (free position lasts 60 days)You can enroll a new member and after 60 days earn commission of 12%.
After that, just make upgrade and earn binary and matching commission and start your mining proces!